WHAT'S NEW AT M/K? PLENTY!
THIS PAGE WILL LIST ALL OF THE NEW ITEMS WEHAVE ALONG WITH SOME OTHER THINGS CURRENTLY IN THE WORKS… PLEASE FEEL FREE TO CALL US AT 262-723-6780 OR EMAIL ATsales@mkdrawing.com IF YOU HAVE ANY QUESTIONS OR COMMENTS.
Check out our new TRUMPETS page!!! Click HereSterling Silver Tuning Slides for Schilke Trumpets!!
Top tuning slide choice for Rick Baptist's Schilke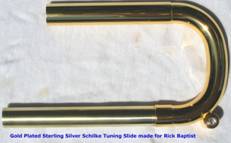 Bach C to Bb Conversion Slide Sets
Available in Yellow Brass, Bronze, Nickel Silver, and Sterling Silver
Sizes available in .460 ML and .462 Large Bore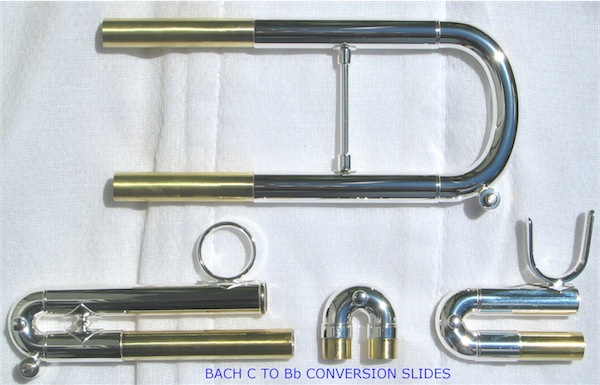 CUSTOM PIPES AND SLIDES ARE ALSO AVAILABLE FOR SOME GETZEN, SHCILKE AND CALLICHIO MODELS
| | | |
| --- | --- | --- |
| | | |
| | | |
NEW ITEMS FOR ALL BACH AND YAMAHA PRODUCTS
Our #4 leadpipes are now available; these are the comparable pipe of Bach 43 (with better playing characteristics).
ALL SLIDES AND LEADPIPES ARE NOW AVAILABLE IN BRONZE AND NICKEL SILVER AS WELL AS YELLOW BRASS. NEW-STERLING SILVER NOW AVAILABLE! SEE Alloy Options for more info.
NEW-STERLING SILVER!!!-VERY WARM, ELEGANT CORE SOUND WITH ENHANCED OVERTONES THROUGHOUT THE ENTIRE REGISTER…GREAT PROJECTION AND WILL LIGHT UP WHEN PUSHED.
NEW M/K-STONER JAZZ TRIBUTE TRUMPETS ARE NOW AVAILABLE!
http://www.liquiscreen.com/gallery/Tribute%20Trumpets/slides/jazz%20Tribute%20Prototype.html
SPENCER MODULAR TRUMPETS WILL BE AVAILABLE SOON; FOR MORE INFO VISIT
BACH Bb VALVE SLIDES ARE NOW AVAILABLE IN YELLOW BRASS, BRONZE, NICKEL SILVER OR STERLING SILVER! BETTER INTONATION, RESPONSE AND CLARITY ARE ACHIEVED WITH THESE SLIDES.
3RD DUMP SLIDES ARE AVAILABLE WITH OR WITHOUT AMADO OR BACH LEVER WATERKEYS.
Customers often ask what other models we've done pipes and slides for:
Callet
Getzen
Benge
Callichio
Stomvi
Holton
Xstream
Schilke
I usually ask for samples of the above models when available in order to insure a precise fit.